Running ShopSite® Pro 14.0 r3.5 hosted by Lexiconn (great host by the way if you are looking for one! I have tried others, they are heads and shoulders above, but I digress....)
https://gourmet-delights.com is my site
Using SEARCH, say for "mustard" and choosing an OUT OF STOCK mustard (Black Truffle Mustard) to "Add to cart" , I get the EXPECTED pop up "Product: Dijon Truffle Mustard
We are sorry but this item is sold out."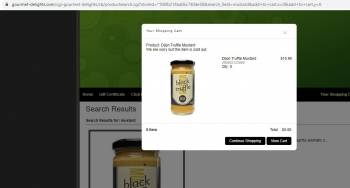 So I click "Continue Shopping" which makes the pop up window disappear, and my search results still in front of me.
I choose an IN STOCK mustard (Walnut Dijon) to "Add to cart", and I get a the pop up BUT it says "Product: Dijon Truffle Mustard
We are sorry but this item is sold out." So this is an ERROR if someone is not reading carefully. YES the Walnut Mustard gets added to the cart, but the pop-up is warning people about "out of stock" for the previous truffle mustard.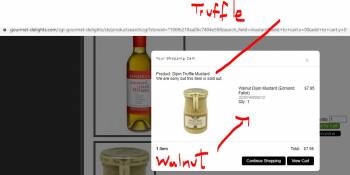 Anytime a customer sees any type of error, they are prone to leave the site thinking the site is broken. So it would be nice if that out of stock for Truffle mustard was only generated once, when you try to add the truffle mustard, and does not keep showing up as you add other products that are in stock.